---
About
Nocturne Remix 2020 is a series of online works reflecting on the current moment created by a cohort of artists affiliated with Ping Chong + Company. It's a remix of a postponed performance event, Nocturne in 2020, that was originally intended to premiere in April 2020.
The past few months have been strange and surreal, full of galvanizing pain and rage. We continue to confront an ongoing pandemic, economic disparities, the legacy of racialized violence, the recognition and remembrance of those, whose bodies and lives are lost or on the front lines. These are not times that lend themselves to creative "output," but rather show the urgent need for healing, connection, self-care, mutual aid, and community.
When we shifted plans and had to indefinitely postpone Nocturne in 2020, the project moved from a live performance to an entirely online process. We went into quarantine mode in March 2020 and checked in as a group via Zoom just to see how everyone was doing, before figuring out what was possible, based on individual circumstance. When we moved into a space of creating, all of the artists drew from source material, surrounding environment, personal experience, guiding questions and inspiration, and utilized their tools at hand — iphone cameras, computers, animation, photoshop, and video editing software — to create these new works.
A connection to and unpacking of history is important throughout all of the work of Ping Chong + Company. In this current historical moment of upheaval and transformation, we continue the work of making space for artists of color to lead the way, to share and document their experiences, work, and voices.
June 2020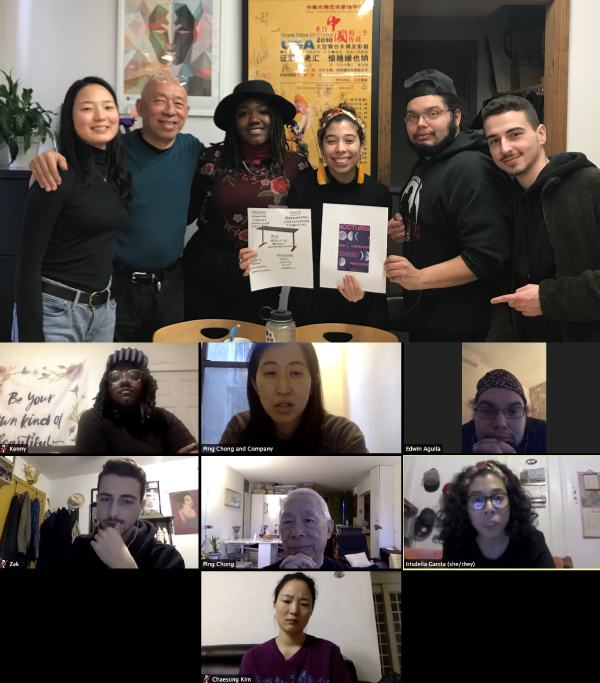 ---
Edwin Aguila
NY's Symbol of Hope
NY's Symbol of Hope is a single image and voiceover recording that shows triumph through hard times, inspired by My Hero Academia, a Japanese anime series.
My Hero Academia is a Japanese anime/manga where most of society has a supernatural ability. The ending of season 4 inspired me the most. Due to the Number One hero All Mighty retiring, the new Number One hero Endeavor has to step up and show the people that there is still hope going forward. This is how I came up with the idea for my piece. My fist up, while my head being down, shows triumph even through hard times. My piece replicates the scene in My Hero Academia.
This entire scene made me clap and brings me to near tears whenever I watch it. I watch it almost every day.
I also wanted to pay homage to the essential health care field workers risking their lives everyday to help fight the coronavirus. Especially my mom who works in the health care field. Everyday, I fear for her safety, every time she is out there. She's out in the fire and hopefully she can get through it without getting burnt.
On top of the essential workers out there risking their lives, I wanted to pay my respect to the people protesting and risking their lives to fight against police brutality. While the initial fist raised was inspired by the anime, it can also be interpreted as the Black Power fist
SETTING
I work from inside my room where I usually have the light on. I seldom work in the daytime so there isn't much natural light, but I find the nighttime to be more calming. I usually play a Kingdom Hearts video game theme to help me focus on my project.
INSPIRATION
I'm inspired by other artists, such as my good friends Akuma aka Majin Matt and PhillyPhresh, to work on my craft and explore my musicality and freestyling. I am also inspired by my friend and fellow Generation NYZ cast mate, Monica, who has pushed me to challenge myself with becoming a better actor and storyteller.
Edwin Aguila is a hip-hop artist and actor from Brooklyn.
---
Kenya Bullock
Phase 23
A raw exploration of mental and physical transformation during quarantine.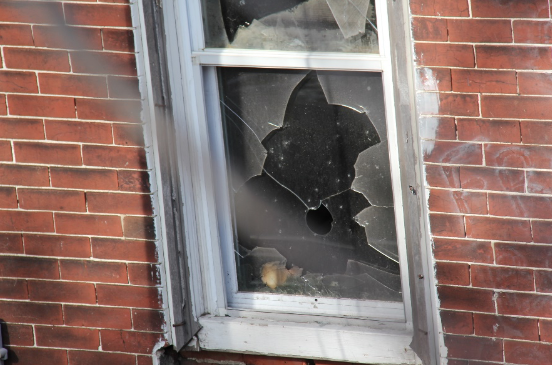 Moving back home has really toyed with my mental health. Sometimes I am happy, sometimes I am resentful and other times, I am motivated. This window represents the harsh reality of being a kid from the "hood". We experience trauma way too soon, far too much.

This series of images, new and old, are presented together to show and compare colors, textures and body postures of how I felt a few years ago and how I feel now.
Other sources for my piece include a quote by Martin Luther King Jr., Alright by Kendrick Lamar, Strange Fruit by Billie Holliday, and this clip from May 31, 2020.
SETTING
Abandoned building with bullet holes surround me. I hear yelling and cries from the five bodies that dropped to the floor this past week. I've been cooking French toast and eggs, salmon and grits, comfort foods to make me feel better.
QUESTIONS
Where is the beauty in struggle?
Should I try and work from home?
Do I really love Trenton as much as I say?
Why can't I stay happy?
INSPIRATION
At the moment I haven't been able to stay creative at all.
Kenya Bullock is a theater director and multidisciplinary artist. She was born and raised in Trenton, NJ.
---
Irisdelia Garcia
aguanile || incorruptibility
aguanile || incorruptibility is a video recorded piece performed in my bath tub and drawing from Adál Maldonado's photo series Puerto Ricans Underwater, my own struggle with my solitude during this time, the trend of mummifying and preserving saints in Catholicism, and challenging religion's colonial grasp on colonized land.
Articles of faith: Haunting images of Italy's 'incorruptible' preserved saints whose bodies are displayed for thousands to venerate — Daily Mail
Puerto Ricans Under Water — Remezcla
I really resonate with the need to 1) preserve what we find both sacred and familiar and 2) the drowning feeling of upholding those things. I'm dealing with my difficulty with change while also understanding the insurmountable weight of historical traumas that frame my stubbornness. The literal process of incorruptibility translates here to this piece: the preservation of something that deserves to pass, like my faith. Do I let go of my faith or do I mummify it under a glass case to pray over it like these saints of past, still kept in large, glorified cathedral halls?
SETTING
In my bathroom, in water, in transition. Encased, enclosed, and with no air.
QUESTIONS
How do I achieve intimacy through the lens?
How do I navigate a crowded space that people need access to?
What is my relationship to water? Loneliness? God?
Has quarantine been healthy for me or not?
How do I create visually and verbally textured work (like I originally planned) by myself?
Is there a future for this?
INSPIRATION
My biggest inspiration is my family, who I am quarantined with. They are the source of both my joys and frustrations during this time. I've been thinking about Catholicism's grasp on bodies historically affected by colonialism and how religion, itself, has been used as a tool of oppression. I am meditating on how the one thing that was meant to ground me suffocates me, especially during moments of crisis. Meditating on how I am still held by colonization, and asking myself if the prayer I sing to a God I thought I knew for air is what drowns me.
Irisdelia Garcia is a New York-based scholar and interdisciplinary artist from the Bronx, New York.
---
Zakaria Khafagy
Springtide
Springtide is an animated piece that explores current national turmoil through the eyes of a groundhog awakening from hibernation in early Spring.
One of the sources that led to the inspiration of this piece can be found here. This picture gave me inspiration for the character of the piece, as to me the groundhog was symbolic of us in a quarantined state. Groundhogs are known to be solitary and we were in a state for a while, where we hardly had a choice but to be alone. At the same time the groundhog is eating a slice of pizza, which to me represents a search, a seeking for something to take comfort in.
SETTING
I am working on this piece in my room where the natural light shines through and I can hear the sounds of birds chirping and bees buzzing past my window. Usually I have a cup of black coffee or tea as I animate with some lofi hip hop in the background.
QUESTIONS
What is it about chaotic times that is inspiring?
How does the creative process help shed light on our current situation?
Is there a silver lining to all this?
Will things be new?
INSPIRATION
The process of creation itself is what has been inspiring me these days. Nothing makes me happier than to see what I envision come to life. Other than that, some animations I've drawn my inspiration during this process from are The Simpsons, and the animations of Monty Python.
Zakaria Khafagy is a hip hop / visual artist, actor, and playwright from Queens, NY.
---
Ping Chong
The Aleph, de Maistre and me
A new video work on the theme of confinement, time, and infinite, inspired by Xavier de Maistre's 1794 book, Voyage Around My Room.
I first ran across the author, Xavier De Maistre's work from Alain De Botton's The Art of Travel. Through researching De Maistre, I reconnected with one of my all time favorite writers, Jorge Luis Borges and his short story, The Aleph. De Maistre and Borges are the inspiration for this prose poem in sound and images.
SETTING
In my present confinement I can hear birds, traffic, the occasional rumble of a distant subway train on the Manhattan Bridge. If I have my front door open, I can feel a delicious breeze snaking through my apartment. This minimalist time/space has given me more time to meditate, to reflect, to strip down to what matters and what doesn't. To finally understand Indian and Thai cooking a little.
QUESTIONS / INSPIRATION
What can we learn from this lockdown that is productive?
Why are people often indifferent to the suffering of others?
Will people return to shopping, shopping, shopping to fill the void in their lives?
Why do we spend so little time listening to our inner selves in the modern world?
Why stay creative in this time of confinement?
What else does an artist do, but create under any circumstance?

A tree has to sprout leaves in spring. An artist has to create art when the Siren calls.
Ping Chong is Artistic Director of Ping Chong + Company and an internationally acclaimed theatre artist and pioneer in the use of media in the theater.
---
Panel
The Nocturne REMIX 2020 online premiere and panel took place on Tuesday, June 23rd at 7pm and featured all of the Nocturne REMIX 2020 artists.
---
Ping Chong + Company is grateful for the support of the National Endowment for the Arts, New York State Council on the Arts, New York City Department of Cultural Affairs, The Ford Foundation, The Fan Fox & Leslie R. Samuels Foundation, The Andrew W. Mellon Foundation New York Theater Program in partnership with the Alliance of Resident Theatres/New York, The Howard Gilman Foundation, The Hyde and Watson Foundation, The Shubert Foundation, The Leon Levy Foundation, Acton Family Giving, The Lucille Lortel Foundation, NYC COVID-19 Response and Impact Fund in The New York Community Trust, The MAP Fund, supported by the Doris Duke Charitable Foundation and the Andrew W. Mellon Foundation, and many generous individual donors.
Nocturne REMIX 2020 is supported, in part, by the Coalition of Theatres of Color, by public funds from the New York City Department of Cultural Affairs in partnership with the City Council, National Endowment for the Arts, and New York State Council on the Arts.

Donate Here
Ping Chong + Company
IG: @pingchongco
Facebook: pingchongco
Twitter: @pingchongco
Email: [email protected]